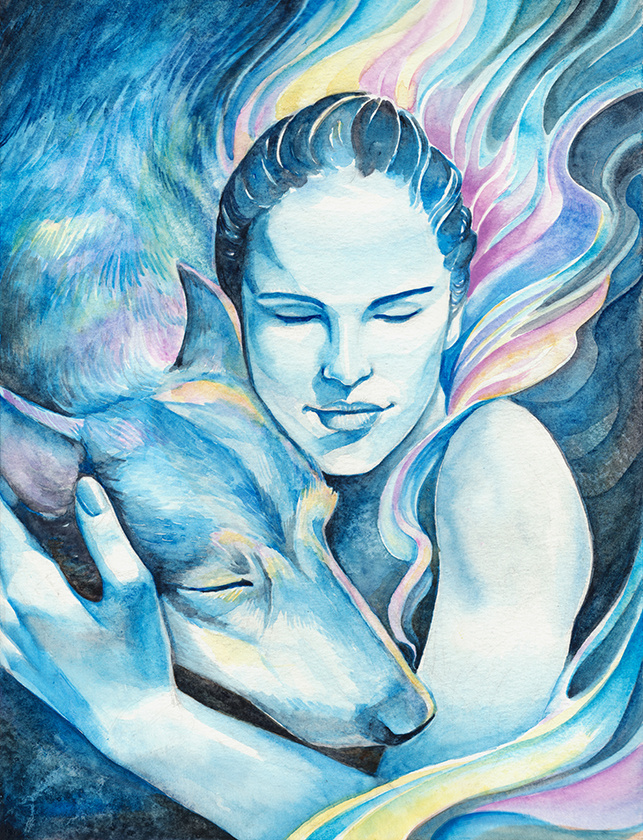 She Warms My Heart
A Light Snack (Kitty)
Lexa
The Old Man and the Sea
Unfortunate, but Necessary
The Imp Caretaker
Amethyst Healer
A Thousand Apologies
The Horned Woman
The Grieving Tree
Clexa
Channeling
Daenerys
Bran
Mountain Man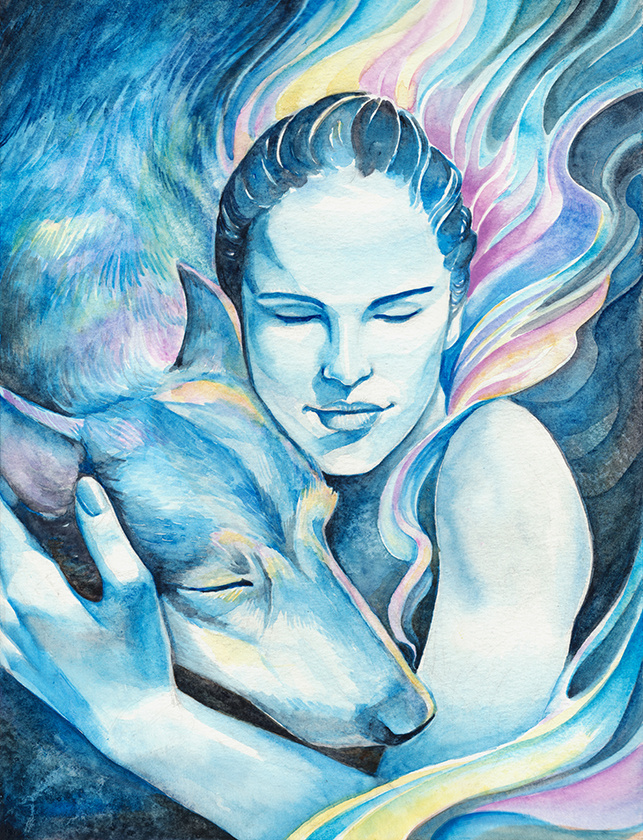 She Warms My Heart
I wanted to paint that feeling... the one where you feel lost, sad, despondent, but when you embrace that special pet, your animal friend, it can warm the coldest parts of your heart. Their love is priceless.Watercolor 9" x 12"
A Light Snack (Kitty)
This fluffy, dangerously cute, flying feline is looking for his favorite dinner, fresh Purple Martin eggs! You can see a couple others of his clowder, flitting through the evergreens, on their own hunger-driven hunts.These creatures may look cuddly, but those razor sharp claws will make quick work of you if you get in one's path!Graphite 5.5" x 8.5" 2019
Lexa
I was impressed with the show, The 100, and how they wrote their female characters with complexity, intelligence, and strength. The best of these being Commander Lexa.Watercolororiginal SOLD
The Old Man and the Sea
Unfortunate, but Necessary
"She has long revered these ancient creatures, but their voracious appetites have brought them too close to her village. So, what she must do is unfortunate, but necessary."Graphite and white charcoal on Kona grey paper
The Imp Caretaker
"They are troublesome, mischievous, and wild, but oh how he loves them so…"Published in Infected by Art Vol 4graphite 11" x 14"
Amethyst Healer
Transforming negative energy to love energy, the Amethyst helps with developing intuition and psychic abilities. Amethyst opens and activates the Crown Chakra as well, allowing easier access to the divine. Amethyst enhances spiritual awareness and spiritual wisdom, promoting a higher state of consciousness.My Amethyst Healer is the spiritual embodiment of those gorgeous purple crystals, and all of their gifts and abilities.I believe she will be the first in a new series of goddesses of precious stones, goddesses of the healing properties of crystals, and the natural world around us.Watercolor and graphite
A Thousand Apologies
After creating my graphite drawing of my froggy friend and his beloved fat-bottomed fairy, I really wanted to see what he would look like in color. So, this is a graphite drawing with digital coloring.
The Horned Woman
A graphite flight of fancy drawing, I just drew what I felt, and then went in with the gold afterwards to add some drama.
The Grieving Tree
The Grieving Tree, aka, the Trees Grieve for Snow... as a Game of Thrones fan, I created this piece in reaction to (spoiler alert) the episode where Jon Snow is stabbed by his own men.
Clexa
Channeling
"Channeling is a natural form of communication between humans and angelic beings, nature spirits, non-physical entities, or even animals and pets."Watercolor on cold press paper. 7" x 11.5"
Daenerys
As a fan of Game of Thrones, I wanted to show my love of the Mother of Dragons. This is graphite and white acrylic on red Bristol with a touch of digital painting.
Bran
I had the privilege of creating the artwork for the Isaac Hempstead Wright PopCon trading card in 2018. They also used this drawing for their All Access Badges.Graphite and white pastel on toned paper
Mountain Man
My representation of the rugged man of the mountain. Graphite and white pastel on brown paper.
1
2
3
4
5
6
7
8
9
10
11
12
13
14
15
16
·
·
·
·
·
·
·
·
·
·
·
·
·
·
·
·